Cassie Bernall: She Said Yes
[ English | Vietnamese ]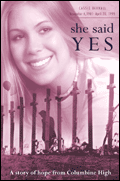 Do you believe in God?
In the wake of the recent Columbine High School shootings Cassie Bernall's story has been an encouragement to many. The following is written as Cassie might have told it.
My name is Cassie Bernall. I was in the Columbine High School library, April 20, 1999, when two of my classmates held me and my friends hostage with their bullets, bombs, and terror. One of the gunmen thrust a gun into my face and asked, "Do you believe in God?"
Before I tell you how I answered, please know that only two years before I had been dabbling with black magic.
My parents were tipped off when they discovered some letters one of my friends had written to me. That's when they stepped in with tough love. They grounded me from my old friends, made me change schools, and insisted I go to church and youth group. Personally, I think they saved my life.
At my youth group, I began to hear about God's love and forgiveness through His Son, Jesus Christ. I discovered that despite the terrible things I'd done or considered doing, Jesus had died for me. I decided I wanted to give my life to Him. Later I wrote this note:
Now I have given up on everything else--I found it to be the only way to know Christ and to experience the mighty power that brought Him to life again, and to find out what it really means to suffer and to die with Him. So, whatever it takes, I will be one who lives in the fresh newness of life of those who are alive from the dead."--Cassie Bernall
It was in the Columbine library that I faced my moment of truth. With the gun pointed at my face, I'd been asked to choose between my old life and my new life in Christ with the question, "Do you believe in God?" I took a deep breath, then answered with a clear voice, "YES!"
"Why?" the gunman asked. Before I could answer, he pulled the trigger, ending my life on earth. How glad I am I stood up for God with my YES! My death is in fact my answer to the gunman's final question, "Why?" For today I am with God. Nothing can take that away from me!
Would you like to be able to say YES to Jesus, just as I did? Would you like to be able to say YES to knowing God has forgiven your sins; YES to knowing that you can someday, like me, be with Him for eternity?
To say YES, first, recognize that you are a sinner. The Bible says, "For all have sinned and fall short of the glory of God" (Romans 3:23).
Who will bridge the distance between you and God? Jesus said, "I am the way and the truth and the life. No one comes to the Father except through me" (John 14:6).
The good news is that Romans 10:9-11 says, "That if you confess with your mouth, 'Jesus is Lord,' and believe in your heart that God raised him from the dead, you will be saved. For it is with your heart that you believe and are justified, and it is with your mouth that you confess and are saved. As the Scripture says, 'Anyone who trusts in him will never be put to shame.'"
Jesus is knocking at the door of your heart (Revelation 3:20). Now it is time to take a stand, to "no longer live for yourself, but for Christ" (2 Corinthians 5:15).
Will you say YES and ask Him into your heart?
Test your heart. Can you say YES to these five questions?
Are you a sinner?
Do you want forgiveness of sins?
Do you believe Jesus Christ died on the cross for you and rose again?
Are you willing to surrender your life to Jesus Christ?
Are you ready to invite Jesus Christ into your life and into your heart?
If you can say YES to these five questions, then simply say to Jesus: "I am a sinner, I want forgiveness for my sins. I believe Jesus died and rose again. I want to surrender my life to Christ. Jesus, please come into my heart. Amen."
© 2002 Good News Publishers. Used by permission.
Translated by permission of Good News Publishers
1300 Crescent Street
Wheaton, IL 60187
U.S.A.