Deion Sanders: Chasing the Wind
Christin Ditchfield
[ English | Vietnamese ]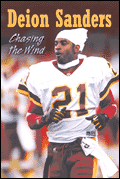 There I was, driving 70 miles an hour down the highway, just looking for a place to end it all. Finally, I yanked the wheel to one side and pulled my car off the road. It skidded to a stop in the loose gravel, sending up a cloud of dust. I hesitated for no more than a second or two, built up my nerve, and then put the accelerator to the floor and shot over the edge of the cliff.
How had I come to such a low point in my life? Deion Sanders! Prime Time! Mr. Millionaire Athlete and all that. I've wondered many times since that fateful day what really brought me to that point. How could I have made it to the top of my game in both baseball and football, with so much success, so much money and fame, with commercials and endorsements with my face all over them running on every channel during the season, and then drive off a cliff like that? What had happened to me?
I had just had the best season of my career. Everything I touched turned to gold. But inside, I was broken and totally defeated. I remember sitting at the back of the practice field one afternoon, away from everybody, and tears were running down my face. I was saying to myself, "This is so meaningless. I'm so unhappy. We're winning every week and I'm playing great, but I'm not happy."
I tried everything. Parties, women, buying expensive jewelry and gadgets, and nothing helped. There was no peace. I had everything the world has to offer, but no peace, no joy, just emptiness inside.
The Bible describes it in the first chapter of Ecclesiastes as chasing after the wind, and that's exactly what it was like. I tried to buy myself something to make me happy and I was even emptier than before, because I could see that nothing could possibly satisfy the hunger deep down inside me. All I could do was stay busy, occupy my time, doing whatever I could to keep working so the feelings of emptiness wouldn't come to haunt me. The pain was horrible.
None of my success on the field could prepare me for the crisis in my life that led to my suicide attempt. When I took that deadly plunge, I had reached the end of my rope. I was struggling with just about everything in my life.
I realize now that God had to get me to the point where He could do what He wanted to do with me, and that meant that first He had to strip me of all the comforts, all the success, and all the relationships that I had depended on. Through the struggles and the doubts and the bitterness, He was bringing me to the point where I could see His hand in my life.
On that fateful day in 1997, I swerved off the road and slammed my foot down on the accelerator. The car just shot up like a rocket. By all rights, it should have flipped or turned over or nosedived, but that didn't happen. When I hit bottom, the car started sliding awkwardly, rocking back and forth, until I came down hard and slid to the bottom of the hill. Miraculously, I walked away without a scratch.
Then God started to send people into my life to share the truth with me--friends, former teammates, pastors, my attorney.
Late one night, I opened the Bible to a passage that said, "If you confess with your mouth the Lord Jesus and believe in your heart that God has raised Him from the dead, you will be saved. For with the heart one believes unto righteousness, and with the mouth confession is made unto salvation" (Romans 10:9-10). The words hit me like a ton of bricks. I knew they were meant for me. At that moment I put my trust in Jesus and asked Him into my life.
Before I found Christ I had all the material comforts and all the money and all the fame and popularity, but I had no peace. When I found Christ, I found what I had been missing all those years. Only then was I able to trust in God's will for my life. I have a new sense of peace about what happens on and off the field. I have a passionate hunger for the things of God, and each day I'm feeding on His Word. Jesus said, "Blessed are those who hunger and thirst for righteousness, for they shall be filled" (Matthew 5:6), and that's how I want to be.
I had had everything that power, money, and sex could give me, but it just wasn't enough. It didn't satisfy me. I was empty inside--desperately empty. Success almost ruined my life, but, thank God, I came to Him just in the nick of time. And that has made all the difference.
If you are not satisfied with what the world has to offer, you, too, can invite God into your life by praying something like this:
"Dear God, I realize that I am a sinner in need of a Savior. I believe that Jesus Christ died on the cross for my sins. Please forgive me and fill me with new life from You. Amen."
Taken from Power, Money, & Sex--How Success Almost Ruined My Life by Deion Sanders, Jim Nelson Black, and T. D. Jakes. Copyright ©1998 by Word Publishing. Used by permission of Word Publishing.
© 2003 Good News Publishers. Used by permission.
Translated by permission of Good News Publishers
1300 Crescent Street
Wheaton, IL 60187
U.S.A.