How to Practice God's Presence
[ English | Vietnamese ]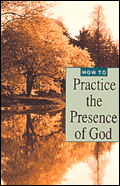 To live moment by moment conscious of the Lord's presence is the key to Christian living.
If you are in the presence of the Lord, success cannot spoil you; neither will trials get you down. Whatever comes your way, you can rest on His promise: "Fear thou not; for I am with thee. Be not dismayed; for I am thy God. I will strengthen thee; yea, I will help thee; yea, I will uphold thee with the right hand of My righteousness" (Isaiah 41:10).
But how do you practice God's presence? The following are suggestions for walking daily with the Lord:
1. Begin each day conscious of the Lord. Meditating on a hymn, Psalm or other portion of Scripture will help you come before Him in worship:
"Holy, Holy, Holy,
Lord God Almighty,
Early in the morning
My song shall rise to Thee."
There is power and ecstasy in worship. Put aside all the cares and pressures of the day and praise God for who He is: Father, Son and Holy Spirit. Praise Him for His presence and His promises. "He who dwelleth in the secret place of the most High shall abide under the shadow of the Almighty.... He shall cover thee with His feathers, and under His wings shalt thou trust..." (Psalm 91:1, 4).
2. Read God's Word. "The entrance of Thy words giveth light; it giveth understanding unto the simple" (Psalm 119:130). Ask the Lord for spiritual insight from the portion you read in the morning. Read at least one chapter--preferably from consecutive daily readings.
Many Christians ask the Lord for a verse or promise from their morning reading. Try it. Ask the Lord to teach you during the day from that verse. You will find greater spiritual depth in applying God's Word to your daily activities. "Thy Word have I hidden in mine heart, that I might not sin against Thee" (Psalm 119:11).
Read the Word throughout the day to be "transformed by the renewing of your mind, that ye may prove what is that good, and acceptable, and perfect, will of God" (Romans 12:2).
3. Pray to the Lord. Each morning dedicate your body, soul and spirit to His service (Romans 12:1). Confess any known sin and pray for your needs and the needs of others (1 John 1:9; James 5:16b).
Speak to the Lord throughout the day. Don't wait for formal times of prayer. Keep short accounts of confessed sin. Don't allow problems to cloud His presence (Philippians 4:6-7). He has promised, "My presence shall go with thee" (Exodus 33:14). Therefore tell Him your innermost thoughts. Ask Him for help in every difficulty. Nothing is too small to matter: nothing is too great.
4. Let praise be the habit of your life. Learn to thank the Lord in every situation you face (1 Thessalonians 5:18). His Word says, "I can do all things through Christ, who strengtheneth me" (Philippians 4:13). You will be surprised at how much you have to be thankful for when you let the Lord direct your day (Romans 8:28).
5. Praise will produce joy. "The joy of the Lord is your strength" (Nehemiah 8:10). Your enemies--the world, the flesh and the devil--have little influence when your eyes are on the Lord. Even if there is nothing else to rejoice in, rejoice in the God of your salvation. "My tongue shall speak of Thy righteousness and of Thy praise all the day long" (Psalm 35:28).
6. Learn to be quiet in the Lord's presence. In this hectic world the Lord's words, "Be still, and know that I am God" (Psalm 46:10), are much needed. The Lord speaks to the quiet, attentive heart. By daily reading His Word, it is stored in your mind for the Holy Spirit to call to remembrance.
7. At the close of the day, rest in the Lord's presence. Thank Him for how He has led. Meditate on His Word so that the last conscious thoughts are of His faithfulness.
A daily walk with the Lord is the blessed life. It leads to Heaven and eternal glory. "In Thy presence is fullness of joy; at Thy right hand there are pleasures for evermore" (Psalm 16:11).
© 2003-2004 Good News Publishers. Used by permission.
Translated by permission of Good News Publishers
1300 Crescent Street
Wheaton, IL 60187
U.S.A.