Kurt Warner: First Things First
Christin Ditchfield
[ English | Vietnamese ]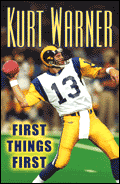 It's been called the "greatest single-season sports story in history!" The St. Louis Rams began 1999 with the worst record of any NFL team in the 90s. At the end of the year, they were competing for the Super Bowl. Even more remarkable was the Cinderella story behind their superstar, Kurt Warner. Just five years earlier, desperate for money to support his wife and children, Warner had worked the night shift at a supermarket--stocking shelves for minimum wage. Now, as the Rams' starting quarterback, he led the team all the way through their "miracle season" to the pinnacle of professional football. There were more than 72,000 fans in the Georgia Dome and a staggering 800 million watching on television. With two minutes and five seconds left in a tied game, Warner threw the touchdown pass that earned him the title "MVP--Most Valuable Player" and "Super Bowl Champion."
It was like a real-life fairy tale, a dream come true. But Warner didn't seem too surprised:
"I believe that the Lord has a plan for each of us that's better than anything we can imagine--even if that plan isn't obvious to us at every stage. He prepared me for this over a long period of time--in lower-profile locker rooms and the grocery store and in Europe, through all the personal tragedies and in spite of the people who doubted me along the way," Warner explained. "Whether I'm a Super Bowl Champion or a regular guy stocking groceries at the Hy-Vee, sharing my faith and glorifying Jesus is the central focus of my time on this earth. And the fact that I now have a podium, I believe, is no coincidence. I want to be a role model for Christ in everything that I do. Living my life for Him and showing people the beauty of that reality is my mission in life."
Kurt admits that glorifying God hasn't always been his priority:
"Before I could devote my life to Jesus and start living my life for Him, I had to go through a lot of personal struggles, including a period a few years ago where I got a little caught up in things that aren't important--fame, money, lust...."
Warner suffered a series of disastrous setbacks in his career. He faced financial problems, family problems, even the sudden and tragic death of his wife's parents. All the hurts and the heartbreak caused Kurt to take a good hard look at his life--and what was missing from it. "Growing up I'd always put my life on one side and my relationship with God on the other. I knew God was there, but I only called upon Him when I needed Him or felt compelled to thank Him. Eventually, I realized I needed to live every day for Him."
Warner says he's grateful he had the opportunity to get his priorities straight before he experienced his NFL success. "I realize now that I would not have been prepared for my big chance had it happened before it did." Kurt's faith in Christ has given him the peace and strength he's needed to handle all the challenges that have come his way.
Immediately after the Rams' victory at the Super Bowl, an interviewer began, "Kurt, first things first--tell me about the final touchdown pass to Isaac."
Kurt responded, "Well, first things first, I've got to thank my Lord and Savior up above--thank You, Jesus!" As he later explained, Kurt meant no offense or disrespect to the reporter.
"I just wanted to use the opportunity to point out that the Lord does come first in my life, and I'm not shy about sharing that with the world. I'm a man who is driven by faith, and any power or peace I feel -- on the football field or otherwise--is because of my faith and my relationship with Jesus."
The Bible says that "If you confess with your mouth Jesus as Lord, and believe in your heart that God raised Him from the dead, you shall be saved" (Romans 10:9 NASB).
"Jesus changed my life, and He can change yours too," Kurt Warner says. If you want to experience the peace and joy that come from having a personal relationship with Jesus Christ, you might pray Kurt's prayer:
"Lord Jesus, You know everything about me. Please forgive me for all the wrong things I've ever said or done. I know that You died for my sins and rose from the dead. Please come into my life and be my Lord. Help me to follow You always. Amen."
Based on the book All Things Possible © 2000 by Kurt Warner with Michael Silver. Used by permission from Harper Collins Publishers, Inc.
© 2003 Good News Publishers. Used by permission.
Translated by permission of Good News Publishers
1300 Crescent Street
Wheaton, IL 60187
U.S.A.