Orel Hershiser: All I Ever Wanted
[ English | Vietnamese ]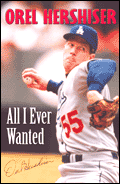 There's no way to describe how much I loved baseball as a kid. Hour after hour I would play by myself in my backyard. I'd throw the ball up and hit it with all my might into the fence. Chasing the ball down, I'd pick it up and hit it again. I was Al Kaline. I was Mickey Mantle. I'd lay the bat down and pretend to be a great pitcher, winding up and throwing the ball against the fence--over and over and over again. I was Bob Gibson. I was Don Drysdale.
In 1988, less than two decades later, everything came together in a way I could only have dreamed of . . . National League Championship Series and World Series MVP, Sports Illustrated Sportsman of the Year, Unanimous National League Cy Young Award recipient and Gold Glove Winner, Sporting News Major League Player of the Year, and the Associated Press Professional Athlete of the Year. I didn't need to be Kaline, Mantle, Gibson, or Drysdale. I was "Orel Hershiser."
Being successful in baseball was what I had set out to do. My parents, grandparents, and coaches had provided the instruction and encouragement I needed. I knew that a goal was a dream with a plan. But deep inside I knew that everything I had become was a generous gift from God's hand. Nine years before, I had slipped to my knees next to my bed at the Buckaroo Hotel in Scottsdale, Arizona, and committed my life to Him in simple faith. My success was only by His grace; so my objective was to praise and honor Him in every way I could.
I hadn't planned to drop to my knee in prayer after the Dodgers defeated the Mets for the National League Pennant or look to the heavens as we beat the Oakland A's for the World Series. These actions were not premeditated. They were only spontaneous flashes of thanksgiving for God's blessing and mercy. Although millions of people around the world saw me at those moments, I was not flaunting my victories. I was privately releasing these experiences to my heavenly Father. The trophies would all be His.
The morning after winning the World Series, I got a call from the producer of "The Tonight Show" inviting me to be on the show . . . that night! After being introduced to a very enthusiastic Los Angeles studio audience, I sat in the chair across the desk from Johnny Carson.
"I read something in the paper that when you get a little distressed and you want a little control . . . you sing to yourself," Johnny said. "You sing some hymns?"
Instead of explaining, I began singing the hymn that I had sung to myself between innings during the playoffs. Except now I was singing it for millions of late-night viewers.
Twelve years later, after a three-year stint with the Indians and one year assignments with the Giants, and the Mets, I was back in Dodger blue. As a 41-year-old, I had done everything I could to extend my career, including volunteering to go back down to the minors for some extra work. But it wasn't to be.
I had given up eight earned runs in less than two innings, and my manager, Davey Johnson, was on his way to the mound to pull me out. Deep inside I knew that this could be the end of my career. And by the standing ovation I received from the Dodger faithful as I walked to the dugout, I suspected that the fans also knew it was probably over.
Each of my teammates greeted me as I stepped into the dugout. Sitting on the bench, I laid my head back against the familiar cement wall and sang one final time as a major leaguer, just as I had done in 1988 in the dugout and on the Tonight Show.
Praise God from whom all blessings flow,
Praise Him, all creatures here below,
Praise Him above, ye heavenly hosts,
Praise Father, Son, and Holy Ghost. Amen.
I was filled with the most profound sense of peace and gratitude anyone could ever imagine.
For seventeen years I had lived my greatest hopes of becoming a major leaguer. I had met the girl of my dreams and had been blessed with two wonderful sons. And I had come to know God through His Son, Jesus, who in His kindness had forgiven my sins.
What else could I have ever wanted?
Would you like to experience the same peace and fulfillment in your life? Commit your life to Christ today. You can pray something like this:
Dear God, I know that I am a sinner and in need of a Savior. Thank You for sending Your Son Jesus to die for my sins, then raising Him again to life. I turn from my sins and invite You to come into my life. Help me to live my life to praise You. In Jesus' name, amen.
© 2002 Good News Publishers. Used by permission.
Translated by permission of Good News Publishers
1300 Crescent Street
Wheaton, IL 60187
U.S.A.