Finding Satisfaction in God
Kimberly Bensen
[English | Vietnamese ]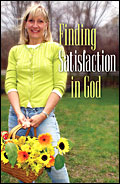 Millions of people today are in bondage to their private struggles. Some of us battle depression or despair, low self-esteem, addictions, or loneliness. For me, weight was a struggle—a 210-pound struggle that left me with a crushed, defeated spirit and little hope that I could ever change.
I've always loved food. In my teens I gained and lost the same 15 pounds over and over again in a yo-yo cycle that would follow me my whole life. I tried every diet program available, chasing an unattainable dream. With each trial and failure I just grew larger. I fluctuated in the 200-pound range for the first ten years of marriage—and in the 300s for the second.
After a while I was no longer able to fit in many chairs. I couldn't buckle up in a car or on an airplane. I even outgrew most plus size clothing stores. My children had no lap to sit on and, if I kept going, they would have no mother at all. I was eating myself to death. But food was just too enjoyable, too important to me to give it up.
Then one Sunday, my pastor preached a sermon on gluttony and said, "And the Israelites craved meat more than God." I remember thinking, "How can that be? Who could love food more than God?" Then I realized: that was me. I finally confessed to myself that I had given food the primary place in my heart—before my family, before my God. Food had become an idol to me, and I couldn't seem to do anything about it. I felt completely enslaved. But God hadn't given up on me, and He continued working on my heart.
Then, on October 1st, 2001, with a broken, hurting spirit, I prayed this prayer:
"God, I'm sorry. I know I've put food before my family and You. But that's the way it is; I can't change my heart."
And then a light bulb went off.
"But you can, oh God!
You can change my heart!
Please change my heart! Make me love You more than food. Take away these awful chains that have bound me for so long. Please! Amen."
It was just a simple, honest prayer from my heart. For the first time in my life I wanted God's blessing and favor and to be in His will more than I wanted to eat. It was a desire deep inside me as was the realization that I was ready to try again. Three days later I began another weight-loss program. I weighed in at 347 pounds.
For two years I worked. I worked on changing habits, learning portion control, memorizing Scripture, fleeing temptation, and leaning on a God who gave me encouragement and deliverance when I needed it most. I watched the scales inch downward as my once hopeless spirit began to soar. I rested and God carried me, I obeyed and God led me, I gave God my weakness and He fortified me. All in all I lost 210 pounds, lowered my cholesterol 112 points, and saw some radical changes inside and out. God had truly set me free.
I worked hard to lose the weight, but it has been God working in me, fine-tuning my character that has enabled me to be victorious. Walking in obedience has increased my faith and drawn me closer to the God I love. For the first time in my life my waking thoughts each day center on Him, not on what I'm going to eat. The most important lesson I learned was that the change had to be made on the inside before it could be permanent on the outside.
Are you leaning on something other than God to satisfy you? The longer we remain enslaved to our "idols," the deeper rooted they become. My idol—food—grew pretty deep. But God says to the one who trusts in Him, "My grace is sufficient for you, for my power is made perfect in weakness" (2 Corinthians 12:9). And remember, "no temptation has overtaken you that is not common to man. God is faithful, and he will not let you be tempted beyond your ability, but with the temptation he will also provide the way of escape, that you may be able to endure it" (1 Corinthians 10:13). So, "do not be conformed to this world, but be transformed by the renewal of your mind, that by testing you may discern what is the will of God, what is good and acceptable and perfect" (Romans 12:2).
God is greater than all of our sin! If you haven't given God the primary place in your heart, I urge you to do that right now. That's the only way for a Christian to find satisfaction in Him!
Beginning a relationship with God…
Our human weakness provides the ideal opportunity to experience God's life-changing power. We're all sinners (Romans 3:23), and the penalty for our sin is eternal death (Romans 6:23). But God doesn't leave us condemned. He loves us too much for that. That's why He sent His son, Jesus Christ, to die on the cross (Romans 5:8). Through His death Jesus served as a substitute for us, taking the full weight of our punishment and wiping away all our sin "as far as the east is from the west" (Psalm 103:12). Having paid the full price, He rose from the dead.
Confess your sinfulness to Him, thank Him for dying on the cross for your sins, and ask Christ to be your Savior today. He will not only give you eternal life; He wants to prove to you that He is all you'll ever need for life now and forever. As we grow closer to God, by His power we can overcome anything in this life on earth!
© 2002 - 2006 Good News Publishers. Used by permission.
Translated by permission of Good News Publishers
1300 Crescent Street
Wheaton, IL 60187
U.S.A.