Tom Landry: A Tribute to America's Coach
Ed Cheek
[ English | Vietnamese ]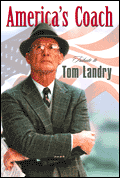 He was one of the greatest coaches of the 20th century. Behind a stone face and beneath his trademark fedora was a brilliant football mind. As head coach of the Dallas Cowboys for 29 years, Tom Landry compiled an impressive record of 13 division titles, five Super Bowl appearances, and two championships. But success didn't come overnight for the stoic coach. Landry began his NFL head coaching career with five straight losing seasons, compiling a dismal record of eighteen wins, forty-six losses, and four ties. "People were wondering whether we were going to make it," he recalled. Of course, the Cowboys did make it, eventually becoming "America's team." Landry became a coaching legend.
In May of 1999, Coach Landry was diagnosed with leukemia. He fought the disease with the same ferocity he used to battle NFL opponents, but death finally tackled him on February 12, 2000. Touching tributes poured in from friends and fans all over the country whose lives he had touched--those so deeply impacted by his honor, dignity, and integrity. Evangelist Billy Graham said, "Tom was one of the greatest Christian gentlemen I ever knew."
Tom Landry died at peace with God and himself. For many years, this peace eluded him. Although he was a churchgoer and a "good man," Landry was restless and knew something was missing in his life. All this changed after he accepted Jesus Christ as his Lord and Savior. "The most important factor in my life is my faith in Jesus Christ," he boldly declared. "When you accept Christ, He becomes first in your life. It's this priority that gives peace."
How did Coach Landry come to make this momentous decision? First, he came to understand that he was a sinner who would have to face the judgment of a Holy God. "For all have sinned and fallen short of the glory of God" (Romans 3:23). Realizing that sin always brings separation from God, since "the wages of sin is death" (Romans 6:23), Landry knew he was in trouble. He discovered some real "Good News" as he studied the Bible: "For God so loved the world that He gave His one and only Son, that whoever believes in Him shall not perish but have eternal life"(John 3:16). He then realized "God demonstrates His own love for us in this: While we were still sinners, Christ died for us" (Romans 5:8).
Coach Landry then turned from his sin and trusted in the Lord Jesus Christ to give him eternal life. Reflecting on this experience, he said, "All we have to do is recognize that Jesus did die on the cross for our sins, that we are sinners, and that it's only through Jesus Christ that we can have our sins forgiven." Tom Landry found in a relationship with Christ the peace he had always longed for.
Do you have peace with God, my friend? If you want to experience this peace now and the joys of heaven for eternity, simply "Believe in the Lord Jesus, and you will be saved" (Acts 16:31). There is no second chance after death. If you have never trusted in the Son, you can pray to Him now, saying something like this:
"Lord Jesus Christ, I know I am a sinner, and I need Your forgiveness. I believe You died in my place to pay the penalty for my sin and that You rose from the dead. I now turn from my sin and turn to You, trusting in You alone as my Savior and receiving Your gift of eternal life. Amen."
© 2002 Good News Publishers. Used by permission.
Translated by permission of Good News Publishers
1300 Crescent Street
Wheaton, IL 60187
U.S.A.