The Boy Who Lost His Boat
[ English | Vietnamese ]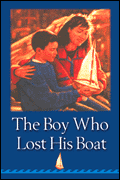 Tom carried his new boat to the edge of the river. He carefully placed it in the water and slowly let out the string. How smoothly the boat sailed! Tom sat in the warm sunshine, admiring the little boat that he had built.
Suddenly a strong current caught the boat. Tom tried to pull it back to shore, but the string broke. The little boat raced downstream.
Tom ran along the sandy shore as fast as he could. But his boat soon slipped out of sight. All afternoon he searched for the boat. Finally, when it was too dark to look any longer, Tom sadly went home.
A few days later, on the way home from school, Tom spotted a boat just like his in a store window. When he got closer, he could see--sure enough--it was his!
Tom hurried to the store manager: "Sir, that's my boat in your window! I made it!"
"Sorry, son, but someone else brought it in this morning. If you want it, you'll have to buy it for one dollar."
Tom ran home and counted all his money. Exactly one dollar! When he reached the store, he rushed to the counter. "Here's the money for my boat."
As he left the store, Tom hugged his boat and said, "Now you're twice mine. First I made you, and now I bought you."
Did you know that God made you and me and that He also bought us? The Bible says that God made us to enjoy all His creation. He made trees to climb, rivers to swim, delicious things to eat. He made sunny days in which to play. And He made mothers and fathers to care for us.
But God especially created us for Himself. He wants each boy and girl to know Him personally. He wants to show us His love every day. He wants us to talk to Him through prayer. And He wants to help us with all our problems.
But our sin--the bad we do--separates us from God. We cannot truly know God until our sins have been forgiven. We are like that boat racing downstream--far away from God.
But the Bible has Good News! "For God so loved the world, that He gave His only begotten Son, that whosoever believeth in Him should not perish, but have everlasting life" (John 3:16).
Jesus Christ, the Son of God, came "to seek and save that which was lost" (Luke 19:10). On the cross of Calvary He took the punishment that we deserve. He paid the price for our sins by dying for us. And to prove that our sins are truly forgiven, he rose from the dead. Today He lives with the Father in heaven. He offers forgiveness and eternal life to all who will receive Him as Savior.
So you see, God made us and He bought us too. Have you received Jesus as your Savior?
"As many as received Him, to them gave He power to become the sons of God, even to them that believe on His name" (John 1:12).
If you would like to know more about receiving Jesus Christ as your Savior, write to us at the address below for a free Christian booklet.
Painting by Ron DiCianni. For more information on the artist or on this painting, visit www.art2see.com.
© 2002 Good News Publishers. Used by permission.
Translated by permission of Good News Publishers
1300 Crescent Street
Wheaton, IL 60187
U.S.A.