You Can Have Peace of Mind
[ English | Vietnamese ]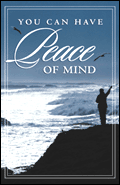 Your mind is like the entrance of a home. Through the door of your mind come thoughts of every kind. Some thoughts bring peace and contentment; others bring unhappiness and sorrow.
Too often fears and worries force themselves into the mind. When we allow them to linger, they enter our spirits and soon possess our very being.
These thoughts can be so strong and persistent that they claim our whole attention. They come in a thousand different ways. Some wait at the door of the mind and push and crowd to get in. Others slip in when we least expect them. But when we permit them to remain, they can fill our lives with sorrow.
A thought knocks at the door of your mind. What will you do?
Passion knocks. If it is admitted and entertained, it will soon take control and lead to sin and shame.
Anxiety and worry appear and keep one sleepless for nothing.
Doubt enters and fills the house with darkness.
Trouble of every kind will fill the mind and stay all day and return in the morning by the time we open our eyes.
Anxieties weighing a thousand pounds each come and leave their burden.
The old nature, refusing to submit to God, demands the best chair in the house even though it is the most unwholesome visitor.
Worries about friends and family, our home, our work, our enemies; fear about what was, what is, and what is to be--all these things will harass and occupy our mind--if we let them.
Today thousands are living in fear and depression because they allowed tormenting thoughts to rule their minds.
But there is hope. God has a way of deliverance from these thoughts through His Son Jesus Christ.
I discovered God's freedom one morning as I lay in bed. I awoke from a troubled night's sleep, and the thoughts of the past, present, and future were there to torment me. They had made an early start. They would soon come trooping in. I felt helpless. What could I do?
Then the Lord showed me from His Word how He had delivered His people Israel from their captivity in Egypt. On that awesome night of judgment upon the Egyptians, God commanded each Jewish family to sacrifice a lamb and place its blood over and around the door of their home. By claiming that sacrifice, the family was protected (Exodus 12:21-24).
How are you and I protected? The blood of Jesus Christ, shed for our sins, is our safety. The Lord showed me that in my helplessness I was to commit my mind to Him and to believe that He would protect me just as He protected the children of Israel.
This was a new thought to me. When tormenting thoughts overwhelm me now I say, "Jesus Christ is my Savior. His blood is over the door." And, miraculously, as I trusted God's power to turn back those thoughts, I found peace. Again and again the thoughts would come, but I simply pointed to the blood of Christ over the door of my mind.
The spotless Lamb of God has shed His precious blood to cleanse and free you not only from sin and sickness, but from the torments and distractions of the mind. Through faith in Christ you too can have peace of mind.
"Be anxious for nothing, but in everything by prayer and supplication, with thanksgiving, let your requests be made known to God; and the peace of God, which surpasses all understanding, will guard your hearts and minds through Christ Jesus" (Philippians 4:6-7).
© 2002 Good News Publishers. Used by permission.
Translated by permission of Good News Publishers
1300 Crescent Street
Wheaton, IL 60187
U.S.A.