The Matchless Pearl
[ English | Vietnamese ]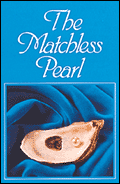 A heavy splash was followed by many ripples and then the water below the pier was still. An American businessman crouched on the low Indian pier. His eyes were riveted to the water, straining to see his Indian friend swimming in the deep.

In a moment a dark head appeared. Then the old Indian pearl diver clambered on to the dock, grinning as he shook off the water.

"This will be a good one," said Rambhau, handing a large oyster to Morris.

Prying open the shell, Morris exclaimed, "Have you ever seen a better pearl! It's perfect, isn't it?"

"There are better pearls, much better. Why I have one that..." Rambhau's voice trailed off. "See this--the black speck here, and that tiny dent. It's just as you say about your God. People look perfect to themselves, but God sees all the imperfections."

As the two men started down the road, another man walked far ahead of them.

"Do you see that man over there?" asked Rambhau. "He's a pilgrim going perhaps to Bombay or Calcutta. He walks barefooted and picks the sharpest stones--and see," he pointed, "every few blocks he kneels down and kisses the road. That is good. The first day of the New Year I also will begin my pilgrimage to Delhi. I will suffer but it will be sweet, for it will purchase Heaven for me."

"Rambhau!" said Morris. "You can't purchase Heaven! Jesus Christ died to provide Heaven for you!" But the conversation seemed useless. The old man could not understand.

One afternoon not long afterwards, Morris answered a knock on his door and found Rambhau standing there.

"Will you come to my house for a short time?" asked the diver. "I have something to show you."

Morris followed him to his home. Once they were there, Rambhau brought out a small but heavy strongbox. "I have had this box for years," he said. "I keep only one thing in it."

The old man drew a carefully-wrapped package out of the box. Gently he folded back layers of cloth. Uncovering a brilliant pearl, he placed it carefully in Morris's hands.

The pearl glowed with a luster Morris had never seen. It would have brought a fabulous sum in any market.

"Now I will tell you about it," Rambhau said. "Once I had a son."

"A son?" Morris interrupted. "You've never said a word about him!"

"No. I couldn't. But now I must tell you. My son was the best pearl diver on the coasts of India. What joy he brought me! He always dreamed of finding a pearl beyond all that had ever been found. One day he found it. But finding that pearl cost him his life.

"All these years I've kept this pearl," Rambhau continued. "And now I want to give this pearl to you, because you are my best friend."

Morris looked up excitedly. "Rambhau, you can't give me the pearl. How can I accept this priceless gift? Let me buy it from you. I will give you all I can."

"What are you saying?" The old diver was stunned. "You don't understand, my friend. Don't you see? My only son gave his life to get this pearl. I cannot sell it. But I want to give it to you because of my love for you."

Morris could not speak. He gripped his old friend's hand. "Rambhau, don't you see?

That is just what you have been saying to God all these years."

Rambhau stared at Morris for a long time. But slowly he began to understand.

"You have tried to buy salvation from God. But God is offering salvation to you as a free gift," Morris explained. "It is so great and priceless that no man on earth could buy it, and no man is good enough to deserve it. It cost God the lifeblood of His only Son, so that you could enter into Heaven. All you can do is to accept God's gift because of His great love for you."

Tears were rolling down the old man's cheeks. "Now I understand," he said. "Some things are too priceless to be bought. I will accept God's salvation."

Rambhau bowed his head in prayer to receive Jesus Christ as his Savior. After he had prayed, Morris took a small Bible from his pocket and read aloud:

"For when we were yet without strength, in due time Christ died for the ungodly. For scarcely for a righteous man will one die; yet perhaps for a good man some would even dare to die. But God commendeth His love toward us in that, while we were yet sinners, Christ died for us" (Romans 5:6-8).

"And this is the record, that God hath given to us eternal life, and this life is in His Son. He that hath the Son hath life; and he that hath not the Son of God hath not life" (1 John 5:11-12).

"By grace are ye saved through faith; and that not of yourselves, it is the gift of God--not of works, lest any man should boast" (Ephesians 2:8-9).




© 2002 Good News Publishers. Used by permission.
Translated by permission of Good News Publishers
1300 Crescent Street
Wheaton, IL 60187
U.S.A.