A Reason for Hope
Lisa Beamer
[ English | Vietnamese ]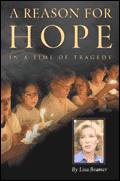 On September 11, 2001, Todd Beamer and his fellow passengers overpowered the terrorists who had overtaken Flight 93. We now know that the terrorists intended to crash the flight either into the White House or into the Capitol Building--and, if they were successful, to inflict devastation on our nation and its government.
Because of the courageous actions of Todd Beamer and his fellow passengers, the first victory over terrorism was won, saving the lives of many and an even greater anguish for the nation.
In the days following September 11, the nation saw the equally courageous testimony of Lisa Beamer, Todd's widow--standing with grace and confidence during the President's address, on Larry King Live, on the Oprah Winfrey Show--as she told of her unshakable faith in God in the midst of overwhelming personal loss.
What is the reason for Lisa's hope? How does she face each new day as she raises her two young sons (David age 3, and Drew age 1) and as she awaits the delivery of her new baby?
The answer, in Lisa's own words...*
The mention of September 11 brings to mind floods of memories and emotions for all of us. For most Americans, feelings of sadness, disbelief, anger and frustration prevail. Added to these for my family is the incredible personal pain of the loss of Todd, our husband, father, son and brother. With only these human emotions to draw upon I'm afraid I wouldn't be able to even breathe at times.
The good news (yes, there is good news!) is that God is faithful each moment to provide the supernatural resources I need not only to carry on, but to be even joyful on occasion. He is showing me His eternal perspective in ways I could not have imagined before September 11. He is giving me peace and steadiness at a time when these are humanly unexplainable. He is showering me with help from the people of his church before I ask or even know what it is I need. Yes, this grieving is hard and will be a long road, but it is never without hope that God is sovereign and loving in our world and in my life.
Truly we have lost much, but we have gained much as well. As Joseph said to his brothers in Genesis 50:20 I say now to the originators of the evil acts of September 11, "You intended to harm me, but God intended it for good to accomplish what is now being done, the saving of many lives." God enabled Todd and his fellow passengers on Flight 93 to take uncommon and courageous actions that undoubtedly saved many lives here on earth.
God is now enabling us as survivors to be equally courageous in saving many lives for eternity as we spread the word of His love and His plan of eternal salvation to lost and searching souls. Although I suffer indescribable human pain, the knowledge of God's eternal good coming from these events is an unwavering anchor for me and will be for our boys someday as well.
Last week I was sorting through some papers in Todd's office and came across this quote, which he had kept at the bottom of his in-box for the past few years. I don't know his thoughts in keeping this in circulation, but it certainly seems prophetic in light of the turn his life took on September 11. It is a quote by Theodore Roosevelt: "The credit belongs to the man who is actually in the arena, who strives valiantly; who knows the great enthusiasms, the great devotions, and spends himself in a worthy cause; who, at best, knows the triumph of high achievement; and who, at worst, if he fails, at least fails while daring greatly, so that his place shall never be with those cold and timid souls who know neither victory nor defeat."
On September 11, Todd's mission on earth was completed, and he ended daring greatly--not with the cold and timid souls who know neither victory nor defeat. Our challenge in the time remaining for us is to each day dare greatly for God, leaving lukewarm faith behind.
What gave Todd Beamer the courage to defeat terrorism on September 11? What gives Lisa Beamer the courage to go forward day-by-day in her own life, with confidence and hope and even joy? The answer is found not in "lukewarm faith," but in their unshakable faith in the living God--in the good news that Jesus Christ is God's own son; that He has borne all of our sins and grief and sorrows in His death for us on the cross; and that we can know the only reason for hope there is--for today, for tomorrow, forever--through faith in the death and resurrection of Jesus Christ.
If you would like to know this hope in your own life, pray this simple prayer from your heart:
Dear Heavenly Father, thank you for giving us a reason to hope in the midst of tragedy. Thank you for giving your Son as a sacrifice for my sins and raising Him to life again, defeating death and terror. I turn from my sins now and invite You into my life. In Jesus' name, Amen.
If you would like to help provide hope for the children and other victims of terrorism, please contact: The Todd Beamer Foundation, P.O. Box 32, Cranbury, NJ 08512. The mission of the Foundation includes meeting the long-term needs of children who lost a parent in the events of September 11th, assisting future victims of terrorism, and continuing Todd's passion for mentoring and equipping youth to make the same heroic choices he did throughout his life. For additional information, visit the Foundation website, www.beamerfoundation.org.
* From the foreword to the book A Reason for Hope, published by Crossway Books, Wheaton, IL, © 2001.
© 2002 Good News Publishers. Used by permission.
Translated by permission of Good News Publishers
1300 Crescent Street
Wheaton, IL 60187
U.S.A.