Rejoice, Christ Lives!
Clyde Dennis
[ Chinese | English | Vietnamese ]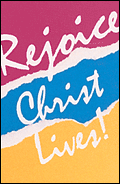 Short Description: With faith in Christ, we can face tomorrow unafraid, trust our future to Him, and have the hope of eternal life.
Full Text:
Because He lives,
I can face tomorrow,
Because He lives,
All fear is gone.
Because I know,
He holds the future,
And life is worth the living,
Just because He lives.
--Bill and Gloria Gaither
Rejoice, Christ Lives! And because He lives, that makes all the difference in the world.
We can face tomorrow unafraid. The risen Christ has gone before us. He holds our future securely in his nail-scarred hands.
If His body had remained in the tomb, we would have no hope beyond the grave. Death would always cast a long, ugly shadow on all of life.
But Christ has conquered death. Now death is no longer the final end... it is a door to everlasting life.
He has promised: "I am the resurrection and the life; He who believeth in Me, though He dies, yet, shall He live... because I live you shall live also" (John 11:25; 14:19).
We can confidently face the problems of this life, and even death itself, with faith in the risen Lord.
Do you have this hope of eternal life? You can be sure of your relationship with Jesus Christ by taking the following steps:
Recognize that without Christ you are separated from God. "For all have sinned, and come short of the glory of God" (Romans 3:23).
Realize that God loves you, and believe that Jesus Christ died for your sins: "For God so loved the world, that He gave His only begotten Son, that whosoever believeth in Him should not perish, but have everlasting life" (John 3:16).
Receive the risen Christ into your life: "But as many as received Him, to them gave He power to become the sons of God, even to them that believe on His name" (John 1:12).
© 2003 Good News Publishers. Used by permission.
Translated by permission of Good News Publishers
1300 Crescent Street
Wheaton, IL 60187
U.S.A.