Let's Be Thankful
[ English | Vietnamese ]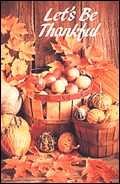 "Dear your honor," wrote an eight-year-old boy to Judge Archie Gringold of St. Paul, Minnesota. "I thank you so much for letting my mom and dad adopt me. I'll be nine soon, and I'm in the Cub Scouts...
"Here's a picture of me. I'm also giving you four cents, because you deserve it."
Judge Gringold put the four pennies into a children's fund. "It makes it all worthwhile," he told the Chicago Daily News.
Thankfulness depends on more than what we have. It's realizing where our blessings come from. Thankfulness is gratitude, a response to someone who has met our need.
God's goodness ought to be the deepest source of our thankfulness. Everything we are or possess is because of His loving kindness. Therefore, it is good for us all to pause at least once a year and say a big "Thank You" to God.
I wonder: Have you ever thanked the Lord for food, shelter, clothes, and other material blessings? Don't forget that millions of people overseas are hungry, homeless, and dressed in rags. If God didn't bless this country you live in, no doubt you would be deprived of these necessities too. So please, when you look at that big turkey with all of the trimmings, tell God that you are thankful for all the material blessings you enjoy.
And what about God's spiritual blessings? Millions of people have no church, no Sunday school, no minister. We have all of these blessings right at our doorstep. Are you thankful for them? Do you make use of them?
Are you thankful that the best things in life--forgiveness, assurance, peace, and joy--are still free? Why? Because Jesus paid it all when He died for you on the cross. The Bible says, "For God so loved the world, that He gave His only begotten Son, that whosoever believeth in Him should not perish, but have everlasting life" (John 3:16).
Are you thankful for the Bible? It will tell you that we all have sinned--that we cannot save ourselves, and that only Jesus Christ can save us. If you have never trusted Him as Savior, He wants to change your life now! "Behold, now is the accepted time; behold, now is the day of salvation" (2 Corinthians 6:2).
What better time is there than Thanksgiving to tell God: "I'm sorry for my sins. Believing I am a sinner, I now repent. I trust Christ as my Savior. I'm thankful for Your mercy to me." Make this your prayer. Then show your thanksgiving by thanks-living--by living for the Lord Jesus Christ every day of your life. You will be eternally thankful that you did.
© 2002 Good News Publishers. Used by permission.
Translated by permission of Good News Publishers
1300 Crescent Street
Wheaton, IL 60187
U.S.A.