Thomas Kinkade, Painter of Light
[ English | Vietnamese ]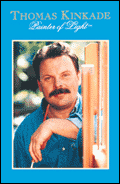 Thomas Kinkade: A Personal Note
To me, art is first and foremost a very deep form of communication. I often liken art to a dramatic experience of nature. You cannot go to Inspiration Point in Yosemite National Park and look out over that valley and not have your life changed a little bit. Something about it is overwhelming. You're in awe of God's creation. To a large degree, that's my mission as an artist--to create a little glimpse of a world that is tranquil, peaceful, and full of the beauty of God's creation.
The underlying theme of all my work is light. Light generates so much hope. People often come to me and say, "I wish I could enter the world of this painting." And I always want to tell them, "You can enter this world. You may not live in a house like this, but you can know the beauty and joy I try to paint. You can have a life built on peace and hope and faith in God."
I often think of the spiritual meaning of light. In fact light is one of the most consistent metaphors throughout the Bible. The first thing God created was light, the Psalms speak of God's Word as a light on our path, and Truth is often represented as light. But on a personal level for me as an artist, when I discovered the One who is Light Himself, it was the most important experience of my life.
Nearly twenty years ago, I had reached a state of disillusionment and skepticism, and I needed a vision and purpose. It was at this time that I met God in a real way and I became a Christian. I recognized that I was a sinner and without hope, and that only through faith in Jesus' death on the cross for my sins could I be saved. The truth of God's Word hit home to me in a profound way, and by grace through faith I received Jesus Christ as my Lord and Savior.
Ever since then the light that illuminates my paintings and all of my life comes from Jesus--from the One who says to each one of us, "I am the light of the world. Whoever follows me will never walk in darkness, but will have the light of life" (John 8:12). The truth of Jesus' words have literally transformed my art and all of my life. To me, the keys to life are simple--a daily walk with God and a committed, loving relationship with my family. Beyond the gift of salvation, certainly God's greatest gifts to me are my beloved wife Nanette, and my precious little children.
My greatest desire now as an artist is to allow God to use my art to touch people's lives--to help them personally to know the One who is the light of the world. The wonderful thing is that you can enter the world I try to express in my art--a place of peace and hope and faith in God, and of eternal life through Jesus Christ. "For God so loved the world that he gave his one and only Son, that whoever believes in him shall not perish but have eternal life" (John 3:16).
About the Artist
Thomas Kinkade is a devout Christian and credits the Lord for both the ability and inspiration to create his paintings. Raised in humble surroundings in Northern California, Kinkade apprenticed for Glen Wessels, an influential artist who retired nearby. Kinkade attended the University of California and received formal training at Art Center College of Design in Pasadena.
In 1982 Kinkade married his childhood sweetheart, Nanette, and is a devoted husband and doting father to their four girls. Kinkade hides the letter "N" in his paintings to pay tribute to his wife, Nanette, and his girls often find their names and images in many of his paintings.
Over the last decade, Kinkade has become the best-loved painter in America. Kinkade has received numerous awards for his work, including the 1996 Graphic Artist of the Year Award by the National Association of Limited Edition Dealers.
Along with his painted signature on each original, Kinkade also includes the international Christian symbol and the Scripture reference "John 3:16."
Art: Broadwater Bridge © Thomas Kinkade, Media Arts Group, Inc., San


© 2002 Good News Publishers. Used by permission.
Translated by permission of Good News Publishers
1300 Crescent Street
Wheaton, IL 60187
U.S.A.