The Most Important Choice You'll Ever Make
[English | Vietnamese ]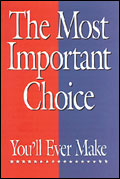 Your vote is important. In fact, one former president believed that "The vote is the most powerful instrument ever devised by man...."
The people we choose to lead our country will have enormous influence--perhaps for the rest of our lives. The choices we make on Election Day could literally change the course of our nation.
The vote is indeed a "powerful instrument" of change. But, sadly, it can't change the most important thing of all. No matter how we vote we can never find lasting peace, freedom from guilt, or eternal life. No matter how we vote it will never change our heart.
That's why the most important choice you'll ever make is the choice you make about Jesus Christ. Only Jesus can give you lasting peace. Only Jesus can give you freedom from guilt. Only Jesus can give you eternal life.
The most critical decision you'll ever make is saying "YES" or "NO" to Jesus. If you reject Christ, you reject God's offer of salvation.
But if you accept Christ as your Savior, He will give you peace, freedom from guilt, and eternal life with Him forever in the glorious splendor of Heaven.
Will you make the most important choice ever--to receive Christ as your Savior? Will you say "YES" to Jesus? The steps you need to take are remarkably simple:
First, recognize that no matter how good you are you can never be good enough. The Bible says, "For all have sinned, and come short of the glory of God" (Romans 3:23). In honest repentance ask God to forgive your sins: for "If we confess our sins, he is faithful and just to forgive us our sins, and to cleanse us from all unrighteousness" (1 John 1:9).
Second, realize that God loves you, and believe that Jesus Christ died for your sins: "For God so loved the world, that he gave his only begotten Son, that whosoever believeth in him should not perish, but have everlasting life" (John 3:16).
Third, receive Him into your life by faith and trust Him as your Savior: for "As many as received him, to them gave he power to become the sons of God, even to them that believe on his name" (John 1:12). The Bible says that if we confess with our mouth and believe in our heart that Jesus is Lord and that God raised Him from the dead, "thou shalt be saved" (Romans 10:9).
When you have followed these steps in faith, you can know that God has forgiven you, and that you have eternal life. Right where you are, I encourage you to pray from your heart:
"O God, I know that I am a sinner. Right now I repent and turn from my sins. I believe Jesus Christ died for my sins, rose from the grave, and is alive forever. I open the door of my heart and life, receiving Jesus Christ as my Savior. Thank You for saving me. In Jesus name, Amen."
© 2002 - 2007 Good News Publishers. Used by permission.
Translated by permission of Good News Publishers
1300 Crescent Street
Wheaton, IL 60187
U.S.A.