Words of Comfort
Billy Graham
[English | Vietnamese ]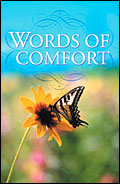 Friends and loved ones depart, but God will never leave us. He is "our refuge and strength, a very present help in trouble" (Psalm 46:1).
There is never a day so dreary
but God can make it bright
And unto the soul who trusts Him
He giveth songs in the night.
There is never a path so hidden
but God will lead the way
If we seek for His Spirit's guidance
and patiently wait and pray.
God makes His Fatherly comfort clear through His Word. "For whatsoever things were written aforetimes were written for our learning, that we through patience and comfort of the Scriptures we might have hope" (Romans 15:4).
A closed, neglected Bible often causes comfortless hearts. But as we read the Bible we turn from our grief to fuller appreciation that Jesus also endured sadness, loneliness, and pain during His life on earth. And He went that final step we will never take-He suffered and died alone for our sins on that cruel cross.
There is never a cross so heavy
but the nail-scarred hands are there
Outstretched in tender compassion
the burden to help us bear.
There is never a heart so broken
but the loving Lord can heal,
For the heart that was pierced on Calvar
doth still for His loved ones feel.
As we bring our requests before the Heavenly Father we know that He truly understands our deepest needs. We can count on and rest in His promises:
"Cast thy burden upon the Lord, and he shall sustain thee; He shall never suffer the righteous to be moved…. Casting all your care upon him, for he careth for you."
Psalm 55:22, 1 Peter 5:7
"Be careful for nothing; but in every thing by prayer and supplication with thanksgiving let your requests be made known unto God. And the peace of God, which passeth all understanding, shall keep your hearts and minds through Christ Jesus."
Philippians 4:6-7
"The Lord has comforted his people and will have mercy upon his afflicted…. I will not leave you comfortless…. I will never leave thee or forsake thee."
Isaiah 49:13, John 14:18, Hebrews 13:5
God in love has promised grace for every trial,
Strength for every sorrow, help for every mile,
And may He in sympathy
and unfailing love impart
Help for each tomorrow
and new courage to your heart.
"Blessed be God, even the Father of our Lord Jesus Christ, the Father of mercies, and the God of all comfort; Who comforteth us in all our tribulation…." 2 Corinthians 1:3-4
© 2002 - 2006 Good News Publishers. Used by permission.
Translated by permission of Good News Publishers
1300 Crescent Street
Wheaton, IL 60187
U.S.A.