Birthday Fun Bash
[ English | Vietnamese ]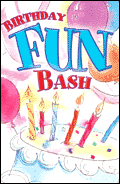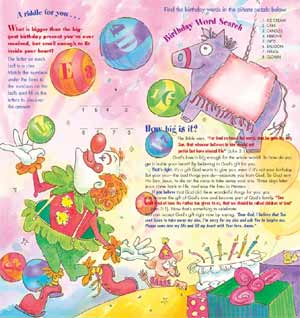 A riddle for you . . .
What is bigger than the biggest birthday present youíve ever received, but small enough to fit inside your heart?
The letter on each balloon is a clue. Match the numbers under the lines to the numbers on the balloons and fill in the letters to discover the answer.
G O D í S†††† L O V E
How big is it? The Bible says, "For God so loved the world that He gave his only Son that whoever believes in him should not perish but have eternal life" (John 3:16). That means itís big enough for the whole world! So how do you get it inside your heart? By believing in Godís gift for you.
Thatís right. Itís a gift God wants to give you, even if itís not your birthday. But your sinsóthe bad things you doóseparate you from God. So God sent His Son, Jesus, to die on the cross to take away your sins. Three days later Jesus came back to life and now He lives in Heaven.
If you believe that God did these wonderful things for you, you can receive the gift of Godís love inside your heart and become part of Godís family. ďSee what kind of love the Father has given to us, that we should be called children of GodĒ (1 John 3:1). Now thatís something to celebrate! You can accept Godís gift right now by saying, ďDear God, I believe that you sent Jesus to take away my sins. Iím sorry for my sins and ask You to forgive me. Please come into my into my life and fill my heart with Your love. Amen.Ē
© 2003 Good News Publishers. Used by permission.
Translated by permission of Good News Publishers
1300 Crescent Street
Wheaton, IL 60187
U.S.A.