And God Made You Too!
[ English | Vietnamese ]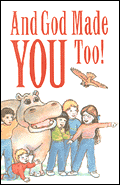 Did you know God made everything? He made the shining sun, the green grass, the playful puppy... everything you can see. God even made a great big animal called the hippopotamus. We call him hippo for short. Doesn't the hippo look silly? He's got short legs, a huge back, and a big smiley mouth. God made the silly hippo--isn't he wonderful?
And God made you too! God says that you're special. Even more important to Him than the hippo. There is nobody exactly like you!
Do you know why you are so special to God? Because He loves you.
God loves you so much that He did the greatest thing possible for you. He sent His son, Jesus, to die on the cross to pay for all of the bad things that you have ever done. And then, three days later He rose from the grave. And now Jesus is alive!
But the best part is that Jesus wants to live in your heart and give you eternal life so you can live with Him forever. All you have to do is ask Him.
You can ask Him into your heart right now! Just pray something like this:
"Dear Jesus, I am sorry for all of the bad things that I have done. Thank You for dying for me so that I can have eternal life. I want You to come and live in my heart. I want You to be my best friend."
Now remember about all of the wonderful things God has made and that you are more important than all of them! You are very special to God.
If you have asked Jesus into your heart, or want to, please write (or have someone write for you) your name and address below, and send it to us for more information about knowing Jesus Christ as your Lord and Savior and learning more about Him.
© 2002 Good News Publishers. Used by permission.
Translated by permission of Good News Publishers
1300 Crescent Street
Wheaton, IL 60187
U.S.A.