Promises for Mothers
[ Chinese | English | Vietnamese ]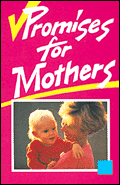 God's Word is filled with direction and encouragement for mothers:

When you are concerned about your family's future...


"'For I know the plans I have for you,' declares the Lord, 'plans to prosper you and not to harm you; plans to give you hope and a future.'" (Jeremiah 29:11)

When there are family tensions...
"Be kind and compassionate to one another, forgiving each other just as in Christ God forgave you." (Ephesians 4:32)

When your family is full of problems...
"Cast all your anxiety on Him [God] because He cares for you." (1 Peter 5:7)

When your children are going the wrong way...
"Train a child in the way he should go, and when he is old he will not turn from it." (Proverbs 22:6)

When you want your husband to follow the Lord...
"Wives, in the same way be submissive to your husbands so that, if any of them do not believe the word, they may be won over without words by the behavior of their wives, when they see the purity and reverence of your lives." (1 Peter 3:1-2)

When you don't know what to do...
"If any of you lacks wisdom, he should ask God, who gives generously to all without finding fault." (James 1:5)

When life has got you down...
"Rejoice in the Lord always. I will say it again: Rejoice!" (Philippians 4:4)

When you need to be appreciated...
"Charm is deceptive, and beauty is fleeting; but a woman who fears the Lord is to be praised." (Proverbs 31:30)

When no one seems to understand you...
"O Lord, you have searched me and You know me. You know when I sit and when I rise; You perceive my thoughts from afar." (Psalm 139:1-2)

When God doesn't seem real to you...
"'You will seek Me and find Me when you seek Me with all your heart. I will be found by you,' declares the Lord." (Jeremiah 29:13-14)

When you wonder if God loves you...
"But God demonstrates His own love for us in this: While we were still sinners, Christ died for us." (Romans 5:8)

When you feel guilty...
"If we confess our sins, He is faithful and just and will forgive us our sins and purify us from all unrighteousness." (1 John 1:9)

When you need assurance...
Jesus promises, "Whoever hears My word and believes Him who sent Me has eternal life and will not be condemned; he has crossed over from death to life." (John 5:24)





© 2002 Good News Publishers. Used by permission.
Translated by permission of Good News Publishers
1300 Crescent Street
Wheaton, IL 60187
U.S.A.