Promises for Fathers
[ Chinese | English | Vietnamese ]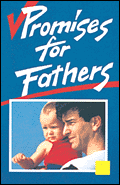 God's Word is filled with encouragement and direction for you as a father...
When you are worried...
"Do not be anxious about anything, but in everything by prayer and petition, with thanksgiving, present your requests to God, and the peace of God, which transcends all understanding, will guard your hearts and your minds in Christ Jesus" (Philippians 4:6-7).
When you need strength...
"My grace is sufficient for you, for my power is made perfect in weakness" (2 Corinthians 12:9).
When you lack wisdom...
"If any of you lacks wisdom, he should ask God, who gives generously to all without finding fault, and it will be given to him" (James 1:5).
When you are concerned for the future...
"He who fears the Lord has a secure fortress, and for his children it will be a refuge" (Proverbs 14:26).
When you face financial trouble...
"The Lord is my shepherd I shall not be in want" (Psalm 23:1). "And my God will meet all your needs according to His glorious riches in Christ Jesus" (Philippians 4:19).
When there are family tensions...
"Be kind an compassionate to one another, forgiving each other, just as in Christ God forgave you... Husbands, love your wives, just as Christ loved the church and gave Himself up for her... Fathers, do not exasperate your children; instead, bring them up in the training and instruction of the Lord..." (Ephesians 4:32; 5:25; 6:4). "Train a child in the way he should go, and when he is old he will not turn from it" (Proverbs 22:6).
When you are tempted...
"No temptation has seized you except what is common to man. And God is faithful; He will not let you be tempted beyond what you can bear. But when you are tempted, He will also provide a way out so that you can stand up under it" (1 Corinthians 10:13).
When you need forgiveness...
"If we confess our sins, He is faithful and just and will forgive us our sins and purify us from all unrighteousness" (1 John 1:9).
When you need assurance...
Jesus promises, "Whoever hears My word and believes Him who sent Me has eternal life and will not be condemned; he has crossed over from death to life" (John 5:24).
© 2002 Good News Publishers. Used by permission.
Translated by permission of Good News Publishers
1300 Crescent Street
Wheaton, IL 60187
U.S.A.